Ten items to help make a Successful Party
These top ten items are sure to make your party go with a swing. There are great ideas for displaying your party food and making the table look fantastic, accessories for glasses so you know which one is yours, and of course the obligatory bottle of bubbly stuff. If you need some ideas for party accessories, things then this list is a great place to start.
1. VonShef Slate Tray for Cheese with Knives and Dishes
The VonShef Cheese board is a 9 Piece Set and includes a Slate Cheese Board, 3 Ceramic Dishes, 4 Cheese Knives, and 1 Piece of Chalk. It would make an eye-catching center piece for parties and can also be used to serve bread and tapas.
Buy the VonShef Slate Cheese Tray now on amazon.
2. Apollo Rubber Wood Lazy Susan With Ceramic Dishes
The Lazy Susan severing platter is a very popular turntable great for serving party food and dips. The Apollo rubber wood lazy susan is made from Rubber wood from sustainable forests and is ECO friendly, it comes with 6 ceramic white serving dishes for dips and sauces.
Buy the Apollo Rubber Wood Lazy Susan now on amazon.
3.
Fred Wine Lives Drink Markers
These cute kitty wine charms will help to identify your friend's drinks at parties, and are purr-fect for cat and animal lovers. They will snooze comfortably around the stems of your wine glasses while you drink and talk. They are made of soft, flexible silicone in six different colours. They will add a hint of fun to your party!
Buy the Fred Wine Lives Drink Markers now on amazon.
4.  Bottega Gold Prosecco Non Vintage
A beautiful gold wrapped 75cl  bottle of Prosecco will add a brilliant focal point to your party and is a great choice for the essential bottle of bubbly. This sparkling wine has a  fruity nose with scents of Golden apple, Williams pear, acacia flowers and lily of the valley.
It is the ideal choice for parties and is also a prestigious gift for special occasions. Made in Italy.
Buy the Bottega Gold Prosecco 75cl now on Amazon.
5. Moët & Chandon Ice Imperial Champagne
The 75cl Moet & Chandon Ice Imperial champagne has a style distinguished by its bright fruitiness, its seductive palate and its elegant maturity. It's fruity with the sweetness of caramel but also the acidity of grapefruit and ginger creating a round fresh wine. The perfect bottle of champagne for your party in a stunning white bottle with bow. Made in France.
Buy the Moët & Chandon Ice Imperial Champagne now on amazon.
6. Freixenet Cava Cordon Negro
This case of 12 20cl bottles of Freixenet Cava Cordon Negro Sparkling Wine will ensure that all your party guests will have their own special bottle bubbly. Cava is a sparkling wine made in Spain and this special Freixenet Cordon Negro is dry to taste with hints of apple and citrus fruits.
Buy the Freixenet Cava Cordon Negro now on amazon.
7. Durobor Alternato Wine glass set of 6
The Durobor Alternato Wine glass comes in a highly stylish modern design and looks great on the table at dinner parties.  These glasses come in a set of 6 with a maximum capacity of 410ml, without a filling mark. The bowl shape of the glasses make them ideal for red wine, but are equally good for white or cocktails, they are dishwasher safe and have dimensions of 136mm high x 95mm wide.
Buy the Durobor Alternato Wine glass set of 6 now on amazon.
8. Luminarc Hermitage Large Wine Glass – Pack of 6
The Luminarc Hermitage wine glass is made from an elegant Fine rim glassware. It allows a greater bowl thinness, for high quality and pleasure of tasting the wine. It is beautiful slim look glass with absolute transparency, to emphasise the depth of colour in the wine. This pack of six large 58cl wine glasses are dishwasher safe, and come beautifully boxed.
Buy the Luminarc Hermitage Large Wine Glass – Pack of 6 on amazon.
9. LSA International Champagne Flute, Pack of 4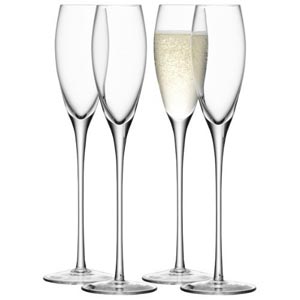 LSA International clear Champagne Flute will hold 200ml of your favourite wine or champagne. This set of 4 distinctive glasses are made from mouth blown glassware and designed for everyday living and entertaining. They are suitable for all occasions and come nicely boxed ready to give as gifts especially for weddings.
Buy the LSA International Champagne Flute, Pack of 4 now on amazon.
10. Dartington Debut Flute Champagne Glasses Set of 4
These quality Dartington Debut champagne glasses are made from high performance crystal and are strong and tough as well as beautiful to look at. This set of 4 champagne flutes are also dishwasher safe
and come in a convenient pack format that would make a great gift. Each glass will hold 17cl of wine or champagne and is 221 mm in height.
Buy the Dartington Wine Debut Flute Champagne Glasses Set of 4 now on amazon.